Thy Art Is Murder Announce Monster Aussie Tour for 2022
It's finally killing season and you're going to be the human target in the pit. If you like your heavy live shows, you're going to love this one.
Now that border closures are chilling out a bit, lords of Aussie deathcore Thy Art Is Murder have announced a massive Aussie tour spanning 2-3 months, all the way from Melbourne's Knight And Day Festival on NYE to Full Tilt Festival (we spoke to guitarist Andy Marsh about this recently) in Sydney on 26 March.
The tour is absolutely stacked with rotating Aussie bands, including Justice For The Damned, Deadlights, Apate, Vengeance and Inhibitor. The news will come with a lot of excitement for fans across the country who've seen the endless tour cancellations due to Covid, including a massive tour for Human Target that we all hoped would go ahead.
See ticketing info below, and go support heavy Aussie music; our wishes have finally been granted.
Words by Ricky Aarons (@rickysaul90)
Tickets on sale now at THYARTISMURDER.NET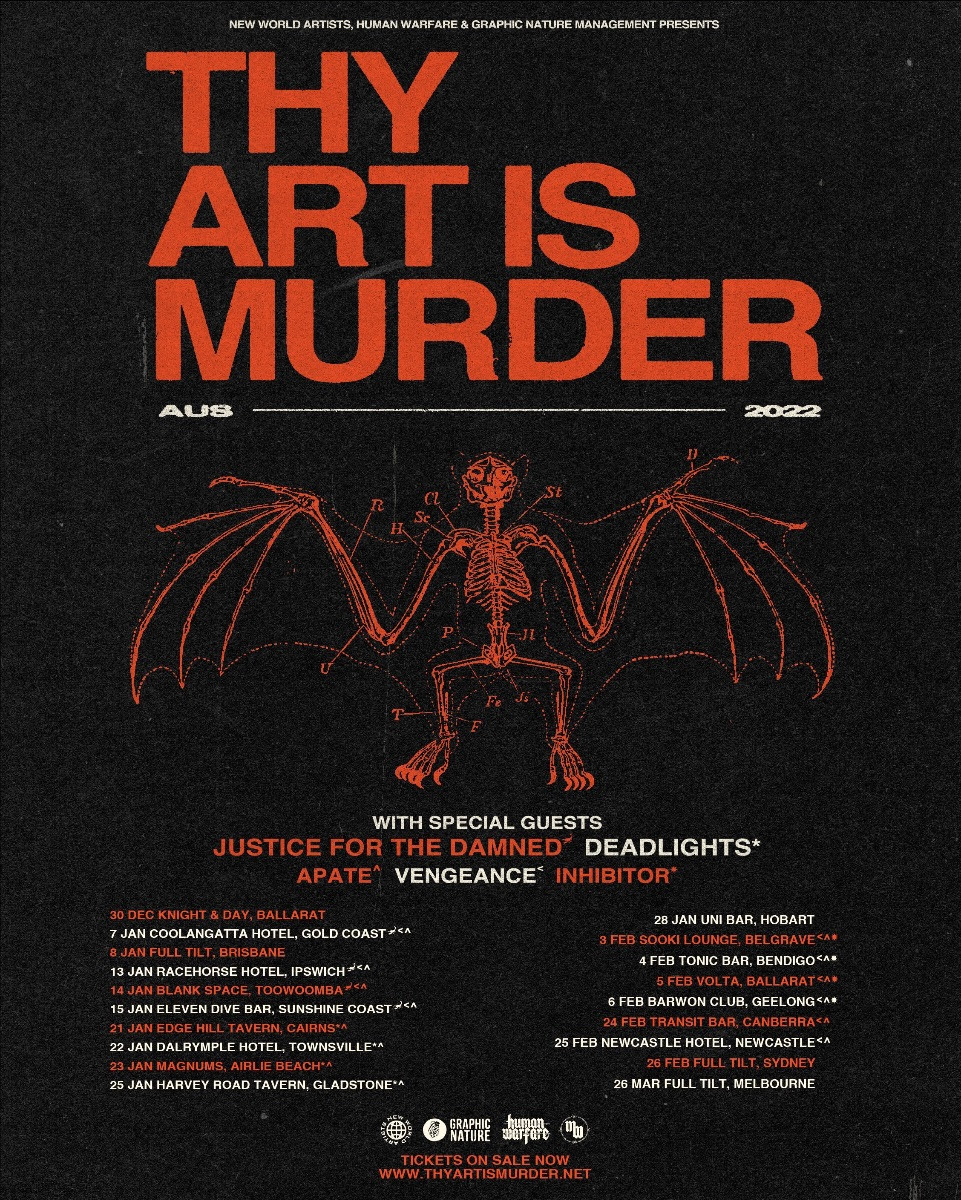 Thy Art Is Murder Australian Tour 2022
with special guests Justice For The Damned, Deadlights, Apate, Vengeance and Inhibitor
Friday January 7
Coolangatta Hotel, Gold Coast, QLD
w/ Justice For The Damned, APATE and Vengeance
OzTix
Thursday January 13
Racehorse Hotel, Ipswitch, QLD
w/ Justice For The Damned, APATE and Vengeance
OzTix
Friday January 14
Blank Space, Toowoomba, QLD
w/ Justice For The Damned, APATE and Vengeance
OzTix
Saturday January 15
Eleven Dive Bar, Sunshine Coast, QLD
w/ Justice For The Damned, APATE and Vengeance
OzTix
Friday January 21
Edge Hill Tavern, Cairns, QLD
w/ Deadlights, APATE
OzTix
Saturday January 22
Dalrymple Hotel, Townsville, QLD
w/ Deadlights, APATE
OzTix
Sunday January 23
Magnums, Airlie Beach, QLD
w/ Deadlights, APATE
OzTix
Tuesday January 25
Harvey Road Tavern, Gladstone, QLD
w/ Deadlights, APATE
OzTix
Friday January 28
Uni Bar, Hobart, TAS
OzTix
Thursday February 3
Sooki Lounge, Belgrave, VIC
w/ Vengeance, APATE, Inhibitor
OzTix
Friday February 4
Tonic Bar, Bendigo, VIC
w/ Vengeance, APATE, Inhibitor
OzTix
Saturday February 5
Volta, Ballarat, VIC
w/ Vengeance, APATE, Inhibitor
OzTix
Sunday February 6
Barwon Club, Geelong, VIC
w/ Vengeance, APATE, Inhibitor
OzTix
Thursday February 24
Transit Bar, Canberra, ACT
w/ Vengeance, APATE
Moshtix
Friday February 25
Newcastle Hotel, Newcastle, NSW
w/ Vengeance, APATE
OzTix